Sunvell
Stream Netflix, YouTube, Hulu, Amazon, Crackle, Twitch, Spotify, SirrusXM, and Much More.
Sunvell T95K Pro is powered by Amlogic S912 octa-core CPU. Dual Band WiFi, 2G RAM and 16G ROM.
This device has the updated S912 8 core CPU with twice the amount of memory as the original S905x which gives this device a faster, much smoother operating and onscreen experience.  With the S912 Octa-core CPU, this device has comparable performance to the more expensive ($199) NVIDA Shield.
Download any Android App or Games and play them on your big screen !!
Compatible with retro console and arcade emulators to play classic 8 bit, 16 bit, 32 bit and 64 bit games.  With 16gb of storage you can install thousands of games, if more storage is needed just plug in a USB Flash drive.
Catch up on all your favorite TV Shows.  Full Seasons of mostly all TV Shows available for streaming.
Main Features:
- Amlogic S912 octa-core CPU is rapid and stable which can give you high-speed feedback and smooth response.
- Newest Android 6.0 system will bring you a great user experience.
- Bluetooth 4.0 connectivity: easy pairing with most Bluetooth-enabled devices including wireless keyboards and game controllers.
- 4K x 2K decoding will bring you the wonderful feeling in video and smooth gaming.
- 2.4GHz + 5.0GHz dual band WiFi will simply connect to any network with any security type and stream your favorite content without the hassles of wires.
- With KODI 16.1 version supports local high-definition play and plug-in installation. Kodi can easily be updated to 17.
- The remote is powered by 2 x AAA batteries. ( not included )
- SNES USB Controllers Available
Package Contents: 1 x Sunvell T95K Pro TV Box, 1 x Remote Control, 1 x HDMI Cable, 1 x Power Adapter, 1 x English Manual.
Top Available Android Apps
Kodi
Kodi is perhaps one of the most powerful 
media center applications
 out there. The app can be used to manage all your media into one central location, which can even be set up to be accessed remotely. Along with that, Kodi's abilities can be enhanced with a number of 
Kodi add-ons
 that add on a lot of power to the application.
Netflix
Netflix is to video streaming, what Spotify is to music. It is one of the most popular movie, and TV show streaming platforms in the world. And now that Netflix is available almost everywhere in the world, chances are, you have a subscription already. Even if you don't, I highly recommend that you give Netflix a try. It has a wide variety of TV shows, and movies to choose from, and you will definitely find something that interests you.
Facebook
Keeping up with friends is faster and easier than ever. Share updates and photos, engage with friends and Pages,and stay connected to communities important to you.
Jamjitsu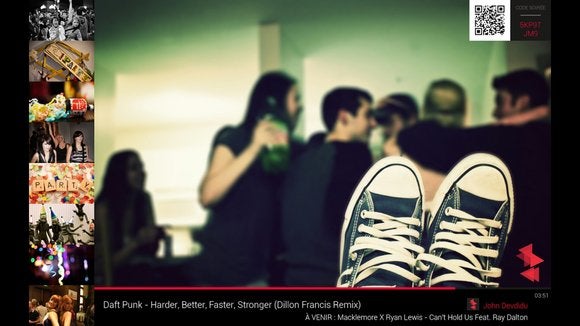 Here's a neat trick for your next party: Throw Jamjitsu
 on the television, and your guests can download the app and queue up songs from SoundCloud, YouTube, Spotify, and Deezer. You can also upload pictures to create a party slideshow on the fly.
Twit Pro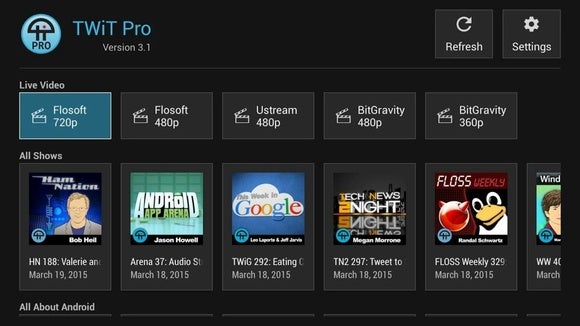 Offers a live feed of the popular online video channel This Week in Tech(TWiT), along with a full on-demand archive of shows. Spend an hour geeking out on Ham radio or home theater, or hit the main broadcast to see what TWiT's talking heads are yapping about now.
.
Santi: Instagram for Android TV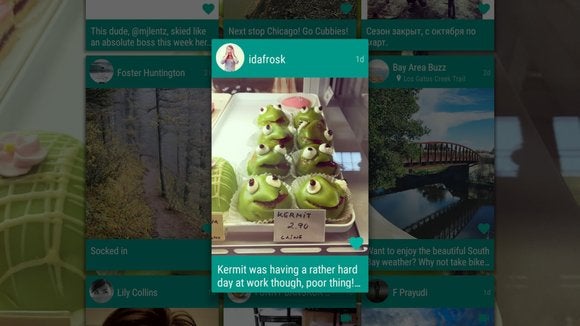 Admittedly, the television might not be the perfect place for Instagramming, but Santi
 is still useful for those times you want to share your photos on big screen or see what your friends are up to. You can even give a thumbs up to photos without ever touching your phone.
.
Spotify
When it comes to streaming music, Spotify is undoubtedly the best way to go. With the Spotify app on your Android TV, you can stream music directly through your Android TV, itself. The best part about using Spotify, is that it has a free tier service, as well. However with the paid subscription, you get unlimited track skipping, and no ads between songs.
.
Twitch
I
f you're a fan of watching live streams of various players (both professional, and amateurs), showing off their gameplay, Twitch is the place to be. The app is kind of like 
the place 
where people post live streams of them playing different games. While this may sound like a silly past-time to a lot of you, for gaming fans, this is a great thing. It's always a lot of fun to watch others play, both for entertainment, as well as for learning new things about the way they approach the game, and the challenges it offers.
.
Airscreen
If you want to stream media from your iPhone to your Android TV, you can use an app like AirScreen. This app puts an AirPlay server on your Android TV, and basically makes your iPhone think that your Android TV is in fact an Apple TV, allowing you to cast your iPhone's screen to your Android TV.